Wiffle Lever To Full! (Signed and Dedicated)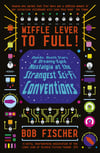 (Signed, dedicated and drawn-on copies available at no extra cost - just add your requests to the 'Notes or instructions' section of the check-out)
At eight years old, Bob Fischer was entranced by Daleks, Vogons and Imperial Stormtroopers.
Almost three decades later, Bob decided to rekindle the affair with a tour of the UK's sci-fi and cult TV conventions. Freewheeling from Doctor Who to Discworld, Star Wars to Star Trek and Robin of Sherwood to Red Dwarf, he combined misty-eyed memories with a terrifying travelogue of terrible, torturous... terror. Or something.
In space, no one can hear you scream. And don't expect much sympathy in Peterborough, either.
"Anyone who agrees that Star Wars was a defining moment of our collective childhoods will love this book' – The Times
'Will have you hitching aboard the Millenium Falcon to a galaxy overflowing with infinite possibilities and fat beardy blokes in furry nappies pretending they're in Discworld' **** – Metro
'Bob Fischer masterfully catalogues first hand the battle with his inner nerd… a ripping good yarn' – Fortean Times
'Guaranteed to make you yearn for days of yore… don't be surprised to find yourself laughing at more in-jokes than you care to admit' **** – Focus
'This could have been cod-Nick Hornby or Dave Gorman-lite, but Fischer has found his own voice… a lively and wryly-written funny account of a year attending genre conventions, laced with 1980s nostalgia' 8/10 – Dreamwatch
'A joyous, irreverent celebration of Britain's secret love of the bizarre' – Gay Times
'Amiable and amusing… what Bob Fischer offers is a glimpse into the world of fandom cranked up, on holiday, given licence to be sillier than usual' – The Telegraph
'Witty and heartwarming… will give anyone from the era of Spam Fritters and Blue Riband biscuits a Proustian rush' **** – SFX
'Fischer sprinkles in some wonderful period imagery… con-goers, of which I confess I'm one, will adore the wittily affectionate portrait he paints of their amiable tribe' – The Crack
'It's hilarious… For anyone who has ever liked any of this stuff, there's laughter and nostalgia aplenty' – Nottingham Evening Post